Dr.Deodorant Alum Series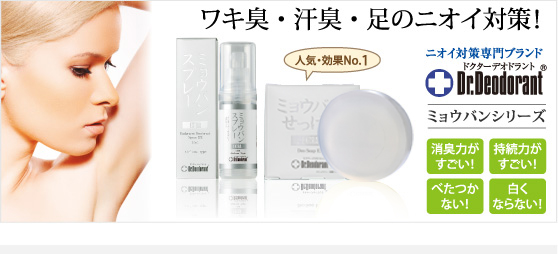 Medicated Alum Soap EX
Ingredients
【Active Ingredients】
Isopropyl methyl phenol
【Inactive Ingredients】
Potassium-containing soap base, purified water, glycerin, sorbit solution (70%), palm kernel oil fatty acid, sodium chloride, hydroxyethane diphosphonate tetrasodium solution (60%), tetrasodium edetate tetrahydrate, soy extract, 1 , 3-Butylene glycol, potassium aluminum sulfate, peppermint oil
Capacity
70g (approximately 1 month usage)
Classification
Quasi-drug
Distributor (manufacturer)
Ram's Marks Co., Ltd. (Master Soap Co., Ltd.)
Country of origin
Japan
Suggested retail price
1,900 yen (excluding tax)
Product description
This is a deodorizing soap able to get reliably get rid of odours in worrying areas, such as the underarms, feet, and groin, as well as middle-aged odour, simply by washing. The deodorizing, disinfecting, and anti-perspirant components alum, peppermint oil, and so on, are successfully combined using technology into the unique and powerful ingredients that suppress odours. It is gentle on the skin, hence maintaining skin health while achieving a strong deodorizing effect.
Alum Spray EX

| | |
| --- | --- |
| Ingredients | Ethanol, water, aluminum potassium sulfate, zinc phenolsulfonate, PEG-60 hydrogenated castor oil, benzalkonium chloride, soymilk powder, soybean extract, dipotassium glycyrrhizate, peppermint (mentha) oil, bamboo vinegar, hydroxylapatite, mica, zinc oxide, sodium citrate |
| Capacity | 30ml (approximately 1 month usage) |
| Classification | Cosmetics |
| Distributor (manufacturer) | Ram's Marks Co., Ltd. (Seek Inc.) |
| Country of origin | Japan |
| Suggested retail price | 2,400 yen (excluding tax) |
| Product description | With just a spray, this product eliminates unwanted bacteria at the root of odours, and curbs the occurrence of body and foot odour at the source. Its lasting deodorizing effect is achieved simply by spraying it on right after your shower. It combines powerful deodorizing and antibacterial components such as alum and peppermint oil. |
Product features
1. Unique combination of alum, peppermint, and so on, which possess remarkable deodorizing effects
The alum series employs a unique combination of multiple deodorizing components such as peppermint, which has a powerful antibacterial effect, in order to maximize the deodorizing capacity of alum. It is gentle on the skin, and achieves a powerful deodorant effect while maintaining skin health.
2. Ease your worries with a lasting solution, by using the soap and spray simultaneously!
Eliminate the root cause of odour by using Medicated Alum Soap EX to wash yourself thoroughly in the shower, followed by spraying on Alum Spray EX directly afterwards, making it possible to enjoy lasting deodorizing effects.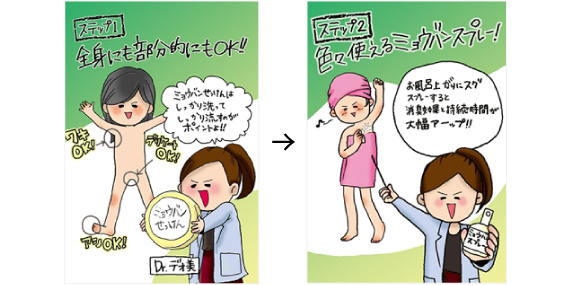 3. Use without fear of discolouration or adhesion
Discolouration or adhesion in the sprayed on areas – often seen in other deodorant products on the market – are absent in the Alum Spray EX. Moreover, it does not have that distinctive deodorant smell and is gentle on the skin, and hence can be used with ease of mind.
4.Gaining of the top spot in the Rakuten overall rankings! Alum Spray EX has naturally monopolized the high rankings! It is also recommended in many magazines!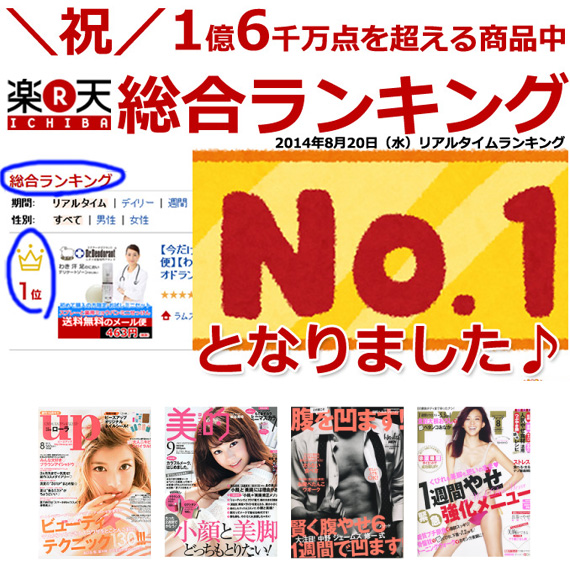 Watch the video explaining the product!