@peace labo Fucoidan Series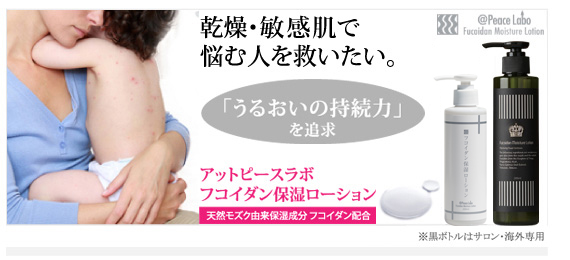 Fucoidan Moisture Lotion
Ingredients
Water, glycerin, pentylene glycol, cladosiphon novae-caledoniae polysaccharide (brown algae extract), Quinn's seed extract, 、betaine, polyglutamic acid, trehalose, clove extract, xanthan gum, dipotassium glycyrrhizate、glyceryl caprylate, polyglyceryl laurate-10, ethanol, butanediol
Capacity
200ml
Classification
Cosmetics
Distributor (Manufacturer)
Ram's Marks Co., Ltd. (Seek Inc.)
Country of origin
Japan
Suggested retail price
5,600 yen (excluding tax)
How to use
After your shower apply to dry skin in areas where dryness is a concern. The lotion spreads well, so only a small amount is needed for a large area.
Additionally, as it contains many beauty ingredients, the product can be used as a whole body lotion.
Product features
1. Moisture lasts till morning when applied in the evening! Gives you beautiful skin without any itchiness!
Skin troubles arise from insufficient moisture, compromising the skin's ability to act as a barrier. Fucoidan Moisture Lotion combines components with outstanding moisturizing and staying power, such as Fucoidan. It moisturizes skin from the inside and out, enabling lasting moisture till morning when applied at night. Satisfied customers have said that it doesn't cause itchiness, hence giving you beautiful skin!
2. Loaded with Fucoidan, extracted from mozuku found in the Kingdom of Tonga's seas, which are highly safe and very beautiful!
Fucoidan has a high content of viscous liquid from seaweed, and is a sticky, slippery ingredient that has the barrier function of protecting skin from foreign microbes and dryness, and has the power to repair damaged areas. Fucoidan Moisture Lotion has a high content of the valuable Fucoidan component, extracted from mozuku from the Kingdom of Tonga, high in mineral content, quality, and safety.

3."Double Moisture Technology" that moisturizes from the inside and out
Fucoidan Moisture Lotion combines both the components in skin that moisturize the outside and the inside. This results in lasting moisture.
Main Moisturizing Ingredients
Fucoidan
Fucidan is a natural ingredient with a high content of viscous liquid from seaweed. This product abounds in the valuable Fucoidan extracted from the mozuku from the Kingdom of Tonga, which contains the highest mineral content, quality, and safety. It takes advantage of the water retention capabilities of Fucoidan, which does not dry up even during low tide. It also contains antioxidative effects for UV protection.
Fucoidan bonds with the skin and forms a smooth, protective moisture coating on the skin surface, protecting from skin irrtants that cause dryness and allergies. Furthermore, through its antioxidative effects, it is able to prevent loss of elasticity through UV damage, hence ensuring smooth, trouble-free skin.
Polyglutamic acid
Glutamic acid, a type of amino acid, has multiple combinations and contains the stickiness of natto (fermented soybeans). It is a natural ingredient formed during fermentation of archaebacteria such as natto bacteria. It is difficult to break down, being a bacteria formed to protect against the outside environment. As a result of estimating the moisture content of keratin, it was proven to possess the same moisturizing effects as hyaluronic acid, and furthermore, was able to suppress the loss of epidermic moisture, rarely seen in other moisturizing ingredients. Moreover, its ability to accelerate production of natural moisturizing factor (NMF) existing in keratin was acknowledged. It has the outstanding function of skin protection in its formation of an effective protective skin barrier.
Quinn's seed extract
Also known as: marmelo extract. It is a viscous liquid extracted by boiling the marmelo plant from the rose family. It contains many sugars such as pectin, and has a lasting moisturizing effect. While moisturizing, it is also outstanding in its guarding function due to its plant fibre structure, high in macromolecules. It is a natural beauty ingredient that is gentle on the skin.
Trehalose
Desert plants (such as the spikemoss, which lives in the desert) will regain their freshness and come back to life if watered, even if they have been dry and withered for many years, while hibernating animals (such as frogs, snakes) are able to come back to life in spring without having froze during winter. Trehalose holds the key to these mysterious phenomena. Water that has bonded with trehalose is able to maintain the condition of neither evaporating nor freezing. It is an ingredient with very high anti-skin dryness capabilities.
Betaine
Also known as: trityl glycine. It is a pure, natural ingredient extracted from beet (sugar beet), and is a highly safe substance found in various animals and plants, as well as humans. Furthermore, it is biodegradable, and can be almost fully decomposed naturally, and is hence environmentally-friendly. It is contained in biological tissue and possesses extremely high moisturizing capacity as a natural moisturizing factor (NMF). It penetrates the skin quickly, and provides moisture to the skin through the night. Its water retaining capacity in cases of dryness is very strong.
4. Safety of the ingredients makes it suitable for infants and people with allergies
Fucoidan Moisture Lotion uses highly safe ingredients, and furthermore, is free of products of animal origin, surfactants, alcohol, preservatives, and fragrances or colouring agents. This makes it suitable for infants, who have sensitive skin, as well as people with skin allergies.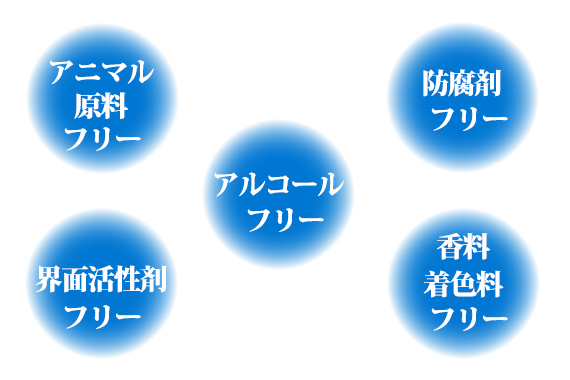 5.Use every day after your shower.
The most drying activity in a day is the shower or bath. Hence, after your shower, wipe moisture gently off with a clean towel, without scrubbing vigorously, and then apply Fucoidan Moisture Lotion. In the case of skin trouble such as those below, slowly, gently blend using the palm of your clean hand and apply.

6. Consistently ranked in first place in the Rakuten rankings!