Dr.Deodorant Anti-Middle-Aged Odour DEO35 Spray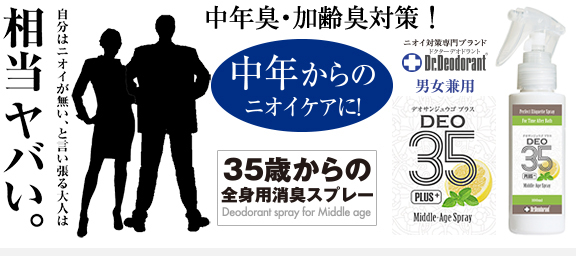 Medicated DEO35 Spray
Ingredients
【Active ingredients】
Benzalkonium chloride solution, paraphenol sulfone acid zinc
【Inactive ingredients】
Purified water, ethanol, para-hydroxybenzonate, peppermint (mentha) oil, tea tree oil, oleic acid POE(20) sorbitan, lauric acid amidopropylbetaine, glycerin, trehalose, vitamin C magnesium ascorbyl phosphate, alum, perfume
Capacity
100ml
Classification
Quasi-drug
Distributor (manufacturer)
Ram's Marks Co., Ltd. (Mimasu Cleancare Corp.)
Country of origin
Japan
Suggested retail price
2,800 yen (excluding tax)
Product description
Combatting body odour is part of basic adult etiquette. While you may not notice odours on yourself, they are extremely obvious to those around you.
Trehalose carries outstanding antioxidant effects that suppress odours that rinse-off soap alone cannot tackle, resulting in an anti-body odour spray that combines highly effective deodorizing compounds in abundance. It is recommended for those above the age of 35.
Product features
1. A medicated deodorizing spray that controls the production of nonenals (a fatty acid responsible for body odour in older people)
Medicated DEO35 Spray, which tackles middle and old aged body odour, prevents the production of nonenals when used directly after rinsing off residual skin oils and grease in the shower. Through this unique combination of highly effective deodorizing ingredients, including alum, trehalose, and peppermint oils, antibacterial, deodorizing, and odour-resistance effects are achieved, resulting in long-term body odour prevention.
The 8 ingredients that effectively combat middle-aged body odour

1. Trehalose
2. Lime oil
3. Peppermint oil (mentha oil)
4. Tea tree oil
5. Vitamin C (magnesium ascorbyl phosphate)
6. Benzalkonium chloride (antibacterial component)
7. Paraphenol sulfone acid zinc (antibacterial component)
8. Alum
2. By simultaneously using the Medicated Alum Soap EX, eliminate your worries about body odour with a lasting solution!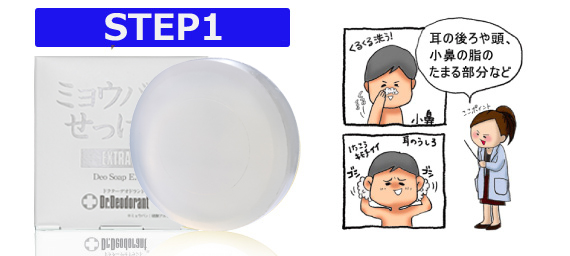 Thoroughly wash bothersome areas!
While in the shower, use Medicated Alum Soap EX to wash troublesome oily or greasy areas thoroughly, such as behind the ears, the scalp, the back of the neck, the nose, and the chest, hence killing unwanted bacteria. This will wash away any middle-aged body odour clinging to your body.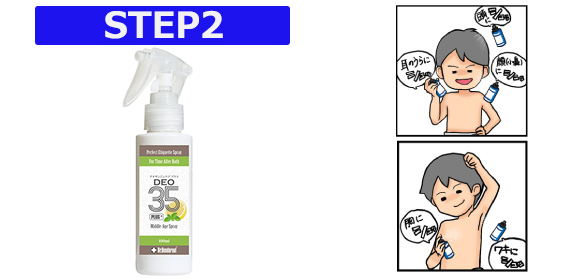 Use DEO35 Spray on bothersome areas!
Medicated DEO35 Spray suppresses the occurence of middle-aged body odour through ingredients that do not cause the oxidation of lipids. Moreover, you can be assured of lasting odour-prevention due to the powerful deodorizing components that remain effective even with perspiration. Spray on oil and grease-prone areas, such as the head and behind the ears, right after getting out of the shower.
3. Complete prevention of nonenal production, as proven by deodorization tests
Deodorization tests conducted by a third party(※) showed that nonenals, the compound that causes middle-aged body odour, were completely eliminated to zero!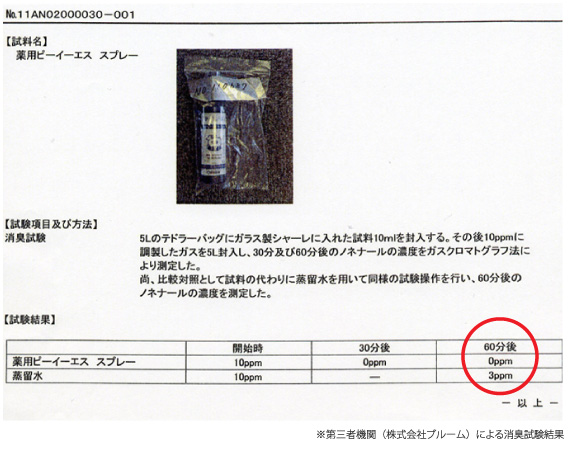 4. Monopoly of the top three spots on the Rakuten rankings! Medicated DEO35 Spray is being recommended in more and more media!